At the beginning of 2015, GN get an repeat order from one of our valuable clients with 32 units of drilling mud decanter centrifuge with 40 units of screw pumps, we shipped them in 2 batches, the first batch 16 units centrifuges are shipped before Chinese traditional Spring Festival, and the rest 16 units are shipped after we come back from the long holiday.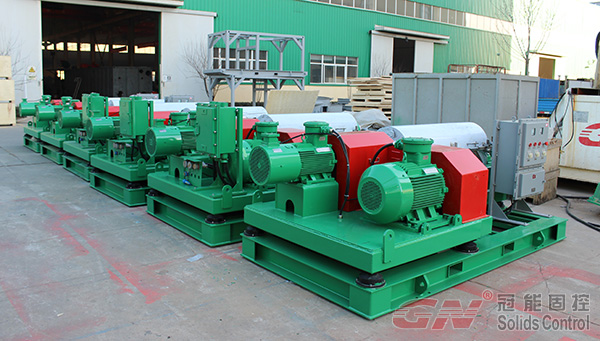 The centrifuge is utilized for fine solids separation at high speed and barite recovery with low speed, there are 2 ways to get them used in different speed:
1 equipped with variable frequency drive control panel, it can adjust from 0 to 3200rpm. It is a easy way for operator, but the VFD control panel cost a lot.
2 equipped with different size pulleys, when you need to use it for different speed, you can just replace the pulley, it is a economic way.
Not only for Solids Control,these decanter centrifuges can also be used for drilling cuttings treatment system, dewatering system, both for oil based drilling mud and water based drilling fluids. To check the performance of GN decanter centrifuge applied for water based drilling mud, pls check the video here: http://www.gnsolidscontrol.com/video/water-based-mud-decanter-centrifuge-argentina
To check the performance of GN centrifuge used for dewatering system, pls check the video here:
http://www.gnsolidscontrol.com/video/gn-solids-control-drilling-mud-dewatering-system-working-video
GN C version decanter centrifuge is the most advanced technology centrifuge after years of improvements, we make such improvements according to the user's feedback and suggestion, the most obvious advantage of C version decanter centrifuge compared with B version is the screw and bowl design changes. We will show the updated version decanter centrifuge both at CIPPE 2015 oil show in Beijing, China and OTC 2015 ( world's largest and most professional oil show) in Houston, TX, Pls contact our sales to make an appointment and visit our factory.