GN Solids Control design and make portable tank cleaning system for oil field and industry tank cleaning. It is mainly designed for normal size and small size mud tank cleaning. GN automatic tank cleaning system is used together with a tank cleaning machine (a kind of wash gun).
The tank cleaning machine will suck clean water from butter tank inside the portable tank cleaning system, recovery the waste water from tank cleaning, and send back to buffer tank to clean tank again. The dirty water from washing tank will be recycled and reused in the tank cleaning process.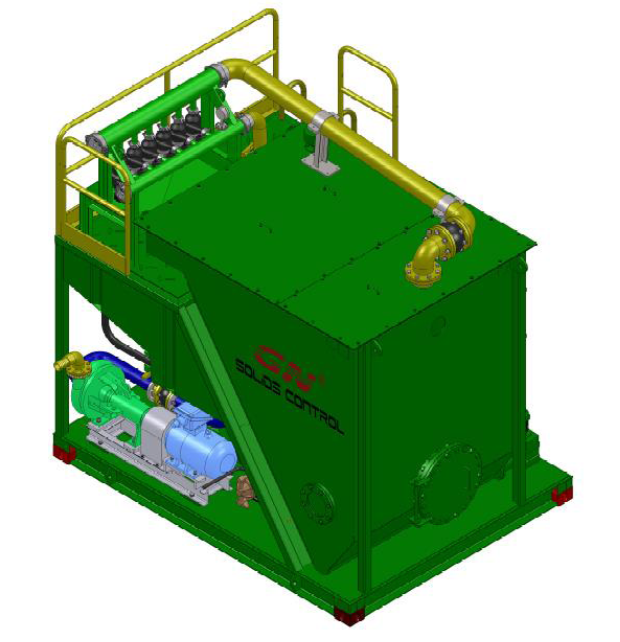 Tank cleaning machine is a kind of high pressure wash gun. It is imported from European. GN Solids Control can offer the whole package. Or recommend clients buy it directly from Europe for better price and shorter delivery time.
There will be a skip box to held sand and silt discharged from the cycling system. Clients can buy from GN, or prepare it locally.
All other items besides tank cleaning gun and skip box are included in the portable cleaning system.
Before washing the tank, operators should fulfill the butter tank inside the system with clean water. After that, they can use the recycled water for cleaning.
Pls see below the process description.
1) Centrifugal pump will pump clean water from Buffer tank and supply to cleaning machine to clean the dirty mud tank.
2) Vacuum Pump will  suck dirty wash water from dirty mud tank , between dirty mud tank and vacuum pump, the strainer will filter coarse solids.
3) Vacuum Pump will supply dirty wash water to desilter for removal of solids.
4) Removed solids from desilter will drop to Air Pump and then pump to Skip box outside the system.
5) The overflow from desilter will drop to inclined plate clarifier (IPC) for removing settable solids.
6) The clean water from clarifier  will overflow to buffer tank  for reuse.
7) Air Pump will take the slurry from the clarifier to Skip.