Recently, 2 sets of big bowl dewatering centrifuge unit with containerized chemical dosing system are dispatched from GN Solids Control. The chemical dosing dewatering centrifuge unit is for a TBM mud treatment project in Singapore. The dewatering centrifuge unit is not the first system order GN Solids Control got from Singapore. Before this system, GN Solid Control sold a complete set mud treatment and dewater unit. For that project, the client need to get clean water after separation, and then discharge to the river directly after separation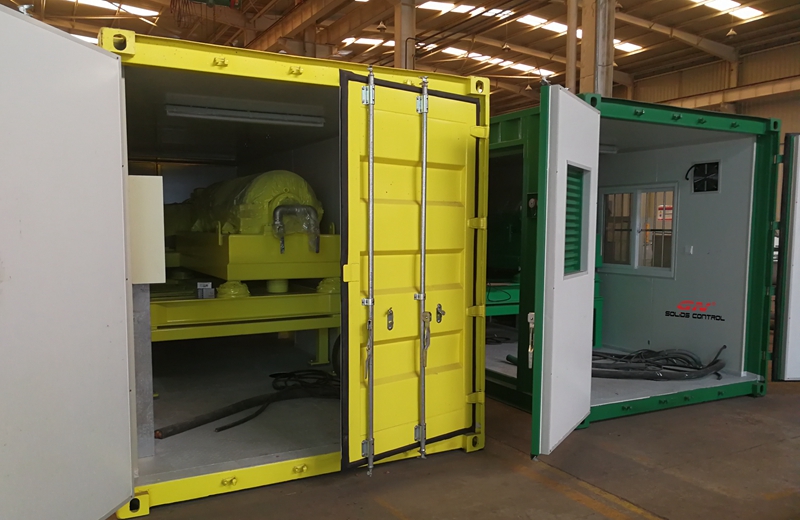 The new big bowl centrifuge dewatering unit is including following items:
1) 1 set of big bowl decanter centrifuge, the model is GNLW553C-VFD.
It is a 22 inch big bowl decanter centrifuge specially designed for waste water and other industry waste management. The big bowl centrifuge is with G force up to 2179G. The design max. speed of the big bowl centrifuge is 3000rpm, while the max. working speed is up to 2500rpm.
GN 22 inch (550mm) decanter centrifuge is widely used for different industry .It is the medium size centrifuge which has the normal capacity requirement for most of the applications. It is popular for drilling mud treatment, and also it can be used for industry waste water treatment, oil sludge treatment, mining water treatment, chemical industry and food industry separation.
2) A full set of containerized chemical dosing system, model GNDU2000.
It is a 20FT Dewatering Unit provides a process of chemically enhanced configuration to remove the fine solids less than 5 microns from the water based drilling fluids.
As it known that traditional solids control equipment like shale shaker, desander desilter, and decanter centrifuge will removes solids upper than 5 microns, for ultra fine particles which is less than 5 microns will build up in the drilling mud system. By utilizing the GNDU2000 Series 20FT dewatering unit, the ultrafine solids can be efficiently removed by the chemical dosing system and the big bowl decanter centrifuge.