A full set of contaminated soil washing cleaning system will be finished this week and dispatched to the port soon. The whole system is ordered by an America customer. This is one of the orders they give to GN Solids Control.
The clients just visited our factory to check and system performance. They are happy with the system test performance and are happy with GN professional manufacturing capability and quality control ability. GN Solids Control help the client arranged shipment per client's instruction. The contaminated soil washing cleaning systems are disassembly for sea worthy packing, and will be dispatched to the port tomorrow.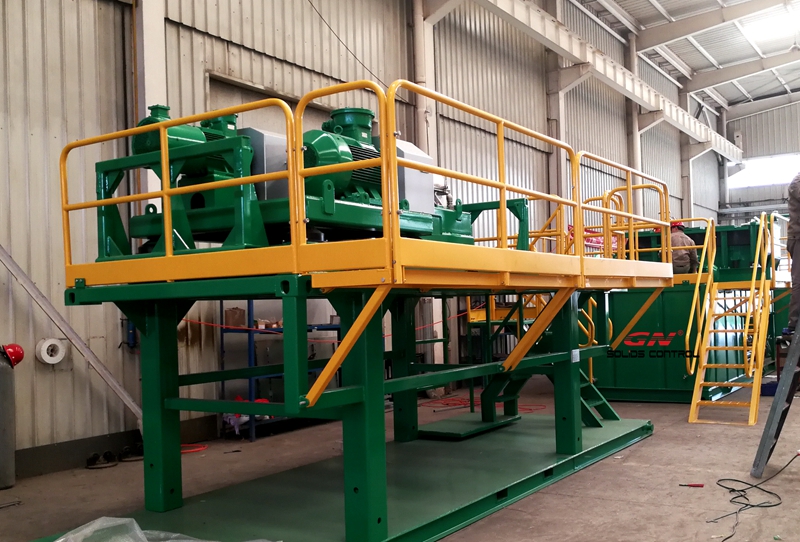 Before the client gave order for the complete contaminated soil washing cleaning system, they preferred to only order the major equipment and pumps, they build the tank and electrical control system locally. But finally, they are compressed with GN turn-key solution, and gave order for the complete contaminated soil washing cleaning system.
The complete contaminated soil washing cleaning system is designed to suit for 55C degree high temperature area. And it is applied with explosion for hazardous areas. The soil remediation system is including below function and equipment:
1) Pre-heating system: It is a 1-tank mixing tank with heating system. Mud agitator and slurry pump is equipped on the tank.
2) High G drying shale shaker separation system: It is used to remove the big size solids. The shaker is mounted on the pre-mixing tank for a compact design.
3) Big bowl decanter centrifuge GNLW553C-VFD unit: The centrifuge unit is complete with feeding pump, working skid, and smart control VFD control panels.
4) 3-phase separation system: This unit is used to separate oil, water and the fine solids in the recovered liquid.  
5) 20FT containerized chemical dosing system.
If you are interested in any equipment or need more information, welcome you contact GN Solids Control any time.