Centrifuge dewatering package is widely used for municipal waste water treatment and reuse plant.
GNDU2000 Series 20 Feet Containerized Dewatering Unit dewatering package is a classic automatic polymer preparation unit. The dewatering package is including below items:
1) 1 set Three Tank Automatic Powder Polymer Mixing System for non-stop polymer mixing. The 3-tank PAM mixing tank is made from stainless steel. It is equipped with a stainless steel mixing hopper and 2 ea stainless steel mud agitator.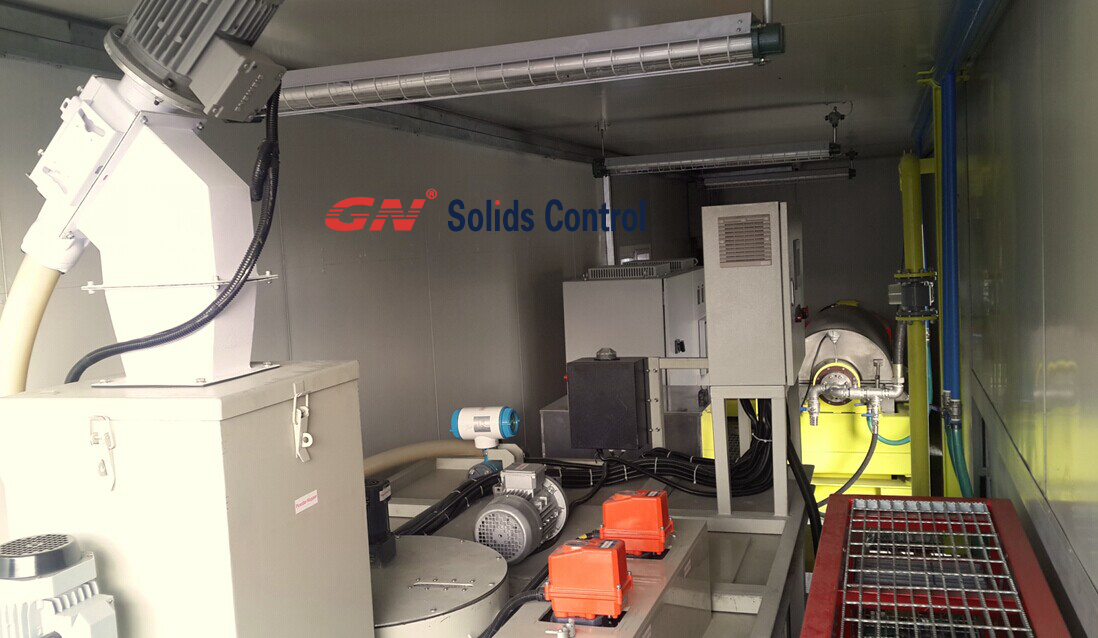 2) 2 sets Powder Polymer Dosing Pump, one for chemical dosing, and another one as back up.
3) Frame and skid for chemical dosing pump and back up pump, pipelines, pressure gauge and valves.
4) 1 set of Coagulant Mixing Tank equipped with mixing agitator and level meter.
5) 2 sets of Coagulant Dosing Pump. One for chemical dosing, another pump is for back up. The dosing pump is equipped with PLC and VFD control system for adjustable chemical dosing.
6) Other components, like the modified 20 ft container with lighting systems, stairs, the electrical control systems.
Why we call the system as continue PAM mixing and dosing system?
Mostly, the polymer will need some time to become ripening. There are 3 tanks in the chemical dosing system, the first tank is equipped with mixing hopper, it is for polymer mixing, after mixed well, the chemical liquid flow to the 2nd tank for preparation. Then the qualified chemical liquid flows to the 3rd tank. The 2nd and the 3rd tank is alternatively. When the 3rd tank chemicals are run out, then it is used as a ripening tank, and the 2nd tank with ripen chemical can be dosed to dewatering unit. It is the non-stop continue chemical mixing and dosing system.
High speed decanter centrifuge is the most popular equipped to be used together with dewatering unit. The centrifuge dewatering unit can be used to remove the ultra fine soil in the liquid mixture.