Recently, a client comes to GN with a headache problem in his jobsite. He has a tank holding drilling mud. They need to transfer the mud out. But as the limitation of his jobsite. There is no free space for pump. Any equipment can only be mounted in the tank top. There are some companies quoted him submersible slurry pump and centrifugal pump, but he did not satisfy.
Firstly, Submersible slurry pump can be mounted on the tank top, but there will be a big length out of the tank. The jobsite condition is not allowed. Regarding centrifugal pump, it is not self-suction pump type. He did not think there would be a good performance of centrifugal pump. Based on his jobsite condition, GN Solids Control recommends him a special kind of pump: cuttings transfer pump in drilling waste management system.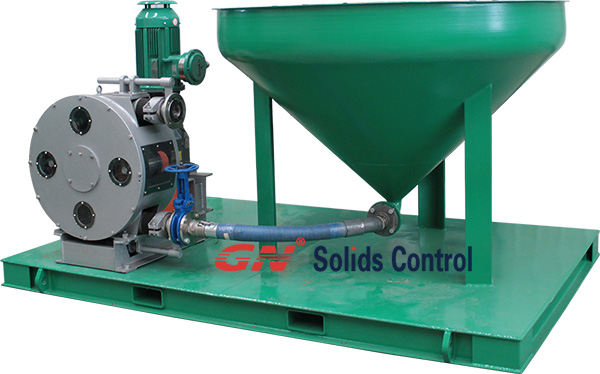 Why GN recommended the drilling cuttings transfer pump? It is normally used in the waste management system. Will there be a good performance with the cuttings transfer pump?
Firstly, cuttings transfer pump is normally be used to move drilling cuttings. It can allow big size solids. For drilling fluids transfer, it is surely no problem.
Secondly, drilling waste cuttings transfer pump is a kind of self-suction pump. The pump can be mounted on tank skid or tank top. It can meet the clients jobsite condition.
Thirdly, the vacuum cuttings transfer pump can allow solids content up to 50%. In condition the material is flowable, it can be transferred by the pump. It can suit for most kind of drilling waste materials. So it is absolutely no problem for the drilling fluids.
And then, the drilling waste vacuum transfer pump is with compact design. It only takes a small for footprint. It is flexible for jobsite layout. The client is only with a limited space on the tank top. So the cuttings transfer pump can meet his requirement.
Consider all these reasons, the client is satisfied with GN proposal and agreed with the drilling cuttings transfer pump for his tank system.