The Mobile Thermal desorption plant (TDU) is a good solution to treat oily sludge and oil based drill cuttings. GN Solids Control developed TDU together with an European company. Most of the major parts are made and imported from European. But TDU is a huge cost for most companies. So mostly, clients will choose oily sludge separation system.
GN Solids Control is the leading manufacturer for oily sludge separation system. For most of other companies, they do only make part of the processing equipment, like most shaker manufacturers are not capable to make centrifuges. Centrifuge manufacturers do not make shale shaker. But GN Solids Control is only focus on the liquid and solids separation. It make the complete line process equipment for liquid / solids separation, like for the oily sludge treatment.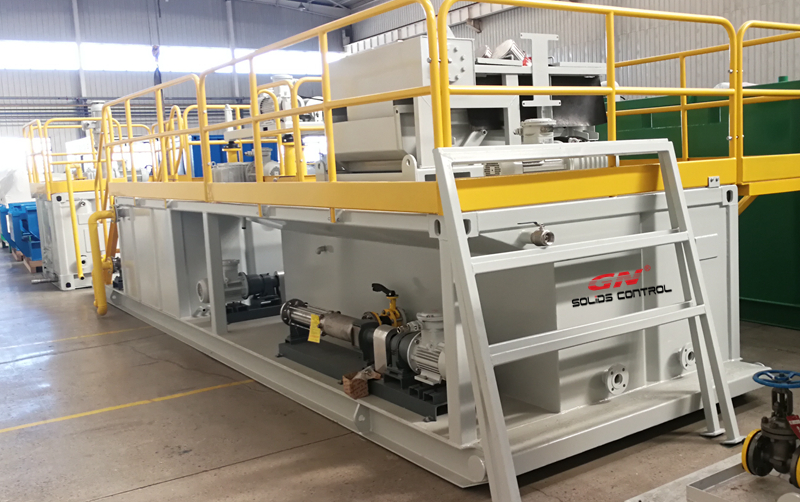 Below is an oily sludge separation system in GN yard. It is for a client and ready for delivery. It is a typical oily sludge separation system with full functions. Below is the major equipment included in the system:
1) Heating and pre-mixing tank unit
2) Oil skimming system
3) Solids separation unit. It is the 1rst separation treatment. The unit includes a high G force shale shaker for coarse solids separation, and a high speed decanter centrifuge for fine solids separation 
4) After that, it is the 2nd washing and separation unit. The unit includes a washing tank and another high speed decanter centrifuge.
5) A disc centrifuge is used after the 2nd centrifuge separation. The disc centrifuge is used for 3-phase separation. After disc centrifuge, it is solids, water and oil. 
6) The oil water separator is also used after disc centrifuge is further remove the water in the oil; 
7) A water treatment system is used as the final stage to purify the recovered water from the oily sludge system. 
The oily sludge separation system utilizes heating and chemical washing method to treat the oily sludge. You can contact GN sales team, or visit GN website to see the jobsite performance of the chemical heating and washing system for oily sludge. 
http://www.gnsolidscontrol.com/video/oil-sludge-treatment-test-unit-working-video