GN Company completed production of 2 units of Decanter Centrifuge, 22inch bowl diameter, which is used for food industry waste water treatment. Decanter Centrifuge is mainly used for dewatering sludge. 
GN Company is capable to manufacture decanter centrifuge with bowl diameter from 9inch/220mm~30inch/760mm, with capacities ranging from 1~2m3/hour to 120m3/hour. And GN Production Team can offer material, which is made of duplex stainless steel 2304/2205, and 304 / 316 are customized. 
For Food Industry, the solids are mostly soft. And GN Technical Team suggests Y series Decanter Centrifuge for this kind of project. This kind of Decanter Centrifuge can reach performance of clarification of liquid while dryness of discharged sludge.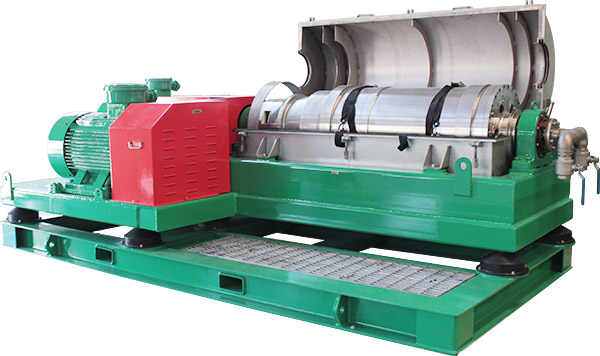 Specifications about Y Series Decanter Centrifuge
1. For material of bowl and screw core are made of duplex stainless steel 2304 by centrifugal casting. And GN Company is capable to supply customized material Super Duplex S32750 (SUS2507). 
2. Screw blade is coated with hard facing tungsten material or tungsten carbide plates.
3. There is oil lubrication system available for Decanter Centrifuge, which is used for lubrication of the bearing at both ends. 
4. PLC and Explosion Proof Control Cabinet are available, and Solenoid Valve can be customized. 
Here are two Advantages about GN Company as follow, 
1. GN Company is capable to design and manufacture customized One Stop Turnkey Solution for clients' projects, including Centrifuge, Shaker, Pump, Screw Conveyor, Chemical Dosing Unit, Slurry Tank, etc. 
2. GN Company is also capable to design & manufacture the whole system in Containerization or Skid, which is safety, and easier for transportation by truck, and movable around different job sites.
Welcome to contact GN Sales Managers for offering the best solution for your project. 
Best & Regards, 
Kevin Liu 
Regional Manager 
GN Separation & Conveying 
Hebei GN Separation & Conveying Equipment Co.,Ltd
Tel:+86-316-5276988/9  Fax:+86-315-5276990 
Mob(WhatsApp/Wechat): +86-15810901775
Email: This email address is being protected from spambots. You need JavaScript enabled to view it.  
Web: http://www.gnseparation.com 
Address: No. 1 Zhongxun Road Dachang Chaobai River Industry Zone, Langfang, Hebei, China (Close to Beijing Int. Airport)