GN Solids Control is a worldwide famous and reputable brand for liquid / solids separation, like drilling mud solids control, oily sludge separation, drilling waste and industry waste management. As we all know, customized solution request a much higher ability of the suppliers. And the cost will be much higher than the standard manufacturing solution.  In order to meet clients' request suits for jobsite condition, GN Solids Control do offer customized solutions per clients' reasonable request.
Recently, GN Solids Control offers 3 sets mud gas separator (poor boy degasser), and 10 sets drill waste collection containers SINOPEC. It is not normal type mud gas separator, it is PLC smart control waste collection container, it suits for long distance smart control.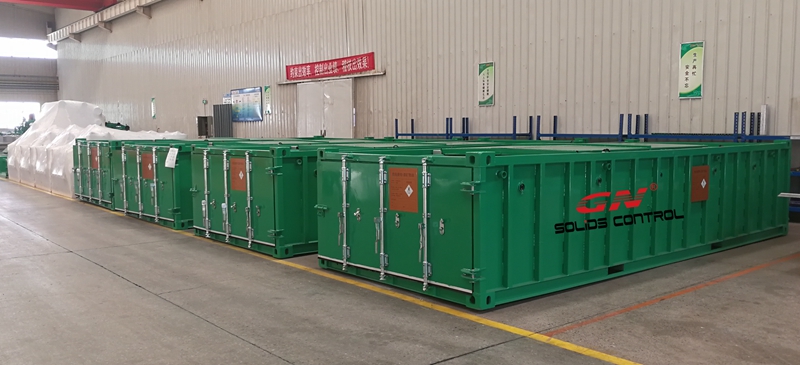 The features of the PLC smart control waste collection container:
1) The waste collection container is sealing well, it can avoid leakage during shipment to protect the environment. The good sealing can also prevent volatile gases which are harmful to human body. 
2) The waste collection container can be open and closed automatically. They do not need operators stand by the waste collection container. It saves much on man powers. It suits for areas with expensive man power cost.
3) Furthermore, the waste collection containers are powered by motor, control by PLC smart system and monitor by sensors. They do not need people to watch it, open or close it. It can be controlled by far away control center through wireless net. The waste collection container is an idea choice for some hazardous areas or the waste material is harmful to human beings.
In normal conditions, the operators can stay at safety area. The PLC smart control system and sensor monitoring system will open and close the waste collect box automatically per the preset program. The wireless control make it very flexible for operation. Within the limited areas, people can control it in any place.