GN solids control has one unit of mining decanter centrifuge for sale in Chile, welcome to contact with GN solids control to get more info and the price offer. The special discount will be offered if you would like to order before May 1, 2016.
The model number of mining decanter centrifuge is GNLW223 with 9 inch bowl diameter, which has been widely used for mining industry in the past years, the purpose to use the mining centrifuge is to reduce the water comsumption for diamond core drilling , re-use the waste water and reduce the cost, also you may meet the environmantal regulations by less the drilling waste and less the damage to the earth. In some countries, it has been obligate to submit a proper drilling  waste management solution before gettting the approval of the core drilling project, especally in mining industry.
We have improved the centrifuge according to the feedback from our clients, the protection of the screw propeller used to be protected by tungsten carbide alloy spray welding, now it is same with the oil drilling decanter centirfuge GNLW363CG- protected by tungsten carbide tiles, which is proved with longer working life to protect the screw.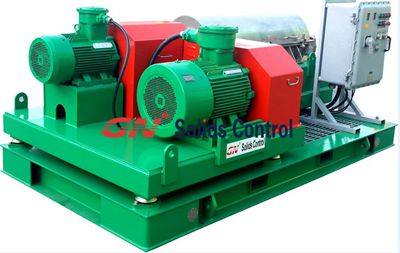 The solids discharge port has been changed to special ceramics for better abrasive resistance performance, you can replace less spare parts to save your maintenance time and cost. And the centrifuge bowl collection box opening direction has been changed for user friendly purpose.
The max rotation speed of GNLW223 mining centrifuge is up to 4500rpm, we also have 3800rpm for option. The unit in Chile for sale is with 380v/ 50hz, 3 phase electric motor and control panel, if you do not need the electric motor and would like to intall your own hydraulic drive system, it is acceptable to remove the motor and control panel.