2 packages of oil based mud drilling cuttings treatment system have been ready for shipment. The order is from a reputable drilling company in their company. They are mainly focusing on deep drilling activities. They compared GN waste management equipment quality after comparing with U.S brand and some Chinese brands. Finally they believe GN Solids Control is the best choice.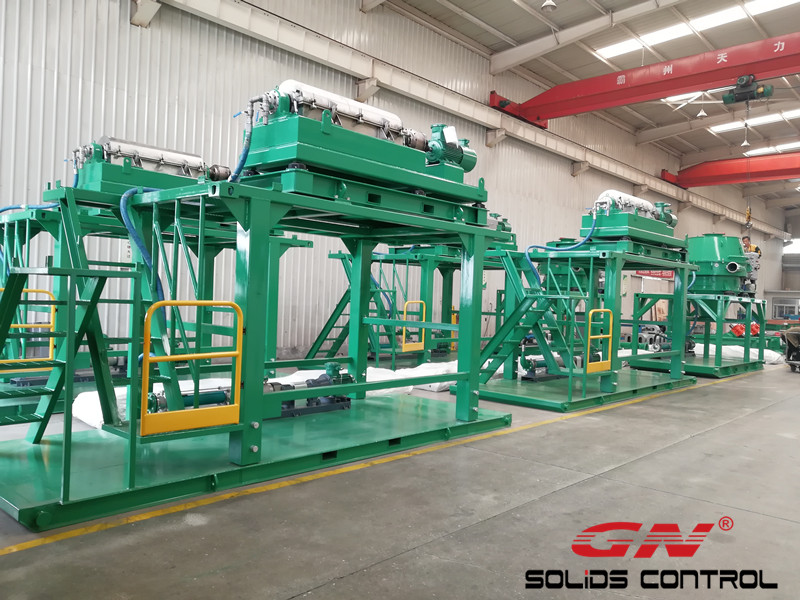 Each packages of the oil based mud drilling cuttings treatment system is including below items:
1) 2 sets High speed centrifuge for each package for barite recovery and fine solids separation. The decanter centrifugewill be put on telescopic skid, in this case, the recovered clean liquids can flow to outsides tank or clients' storage tank directly. It saves cost for a separate transfer tank and transfer pump for the output liquids. 
The feeding screw pumps and VFD control panels are both located in the same skid. All internal connections are included in the system. Clients only need to prepare a power cable for connecting to the power supplier.   
2) 1 set of vertical cuttings dryer complete with lubrication system and flushing pump, all items and internal connections (cables, plugs, sockets, fittings) are offered by GN, all items are localted in the telescopic skid for easy movement.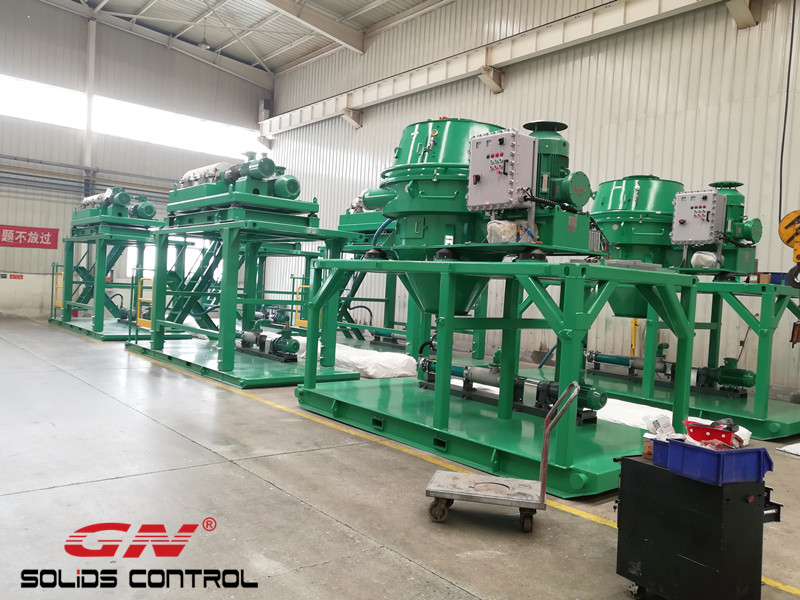 3) GN Solids Control offered different sizes screw conveyors to feeding and transfer cuttings between different units. All auger screw conveyors are variable speed control. Clients can adjust the rotating speed in order to get different transfer capacity for different materials and applications.
Why the client finally chose GN after comparing many different suppliers?
1) GN Solids Control is the only one Chinese supplier who does offer PLC smart control VFD control panel for oil field decanter centrifuges. GN Solids Control has CNEX and IECXE certificate for explosion proof control systems fabrication. They know more about their equipment so they know well to optimize the design. Even the U.S centrifuge suppliers are not capable for VFD control panel. They have to outsource. 
2) GN Solids Control is the only one Chinese supplier who does offer A/C cooling systems for high temperature ambient areas. 
GN solids control is a leading manufacturer for mud solids control equipment, drilling waste management  equipment and different models replacement shaker screens. GN Solids Control design and make different standard drilling cuttings treatment system per clients' project request and their jobsite situation. GN Solids Control also has some standard drilling mud purification system and drilling cuttings treatment system which can suit for the general situation of most projects. In enable the clients can get the complete solution for a reliable mud system within short delivery time and with very good price.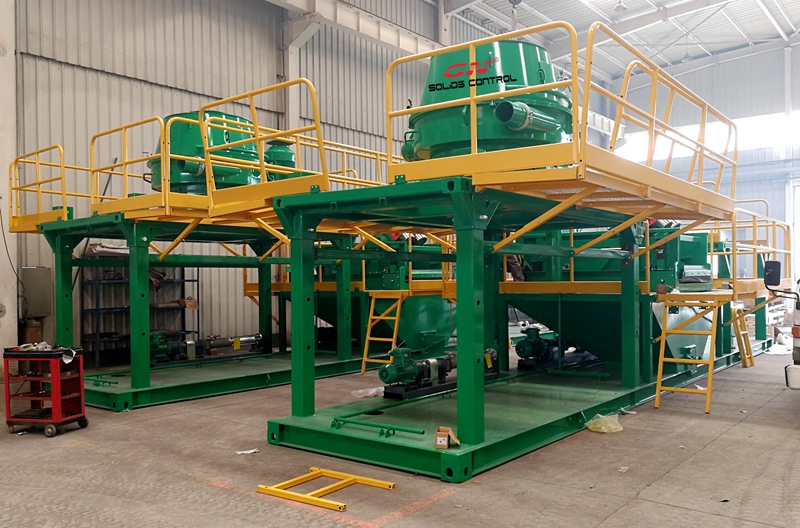 GNCM-40A is one a standard cuttings drying system from GN Solids Control. The cuttings drying system can be used to drilling the oil base mud and cuttings, as well as some kinds of water based mud and water based mud cuttings. The standard Cutting Management System is including below equipment:
1) 1 set of Vertical Cuttings Dryer GNCD930D, complete with a German brand progressive screw pump to flushing the screen baskets.
2) 1 set of 2-phase Decanter Centrifuge GNLW363C-VFD international Standard premium quality. The centrifuge is equipped with 3 VFD drives for 3 VFD control: for the main drive VFD control, the back drive VFD control and the feeding screw pump VFD control. The centrifuge feeding screw pump is with max. 30 m3/h capacity.
3) 2 sets Telescopic Skid for decanter centrifuge and vertical cuttings dryer respectively.
4) 1 set of Electric Cradle to the VG dryer screen changing and the normal maintenance.
5) Explosion proof Electrical Control system to control all above
3) A skid with catching tank to hold all above for fast movement. 
Features of the GNCM-40A drill cuttings drying system:
The centrifuge on GNCM-40A is set up on a telescopic skid with height adjustable. The advantage of this design is to allow the fluids discharged from the centrifuge to flow to the storage tank or active mud tank by gravity. But when move the complete system by truck, the telescopic skid should be lower down, and there is no storage capacity for the catching fluids from centrifuge.
In Beijing oil show, GN Solids Control exhibited his different sizes vacuum slurry pump units. GN Solids Control has a skid type vacuum transfer pump unit. GN Solids Control also owns 2 smaller size portable vacuum pumps in his equipment range. The portable vacuum slurry pumps are equipped with ties for easy movement.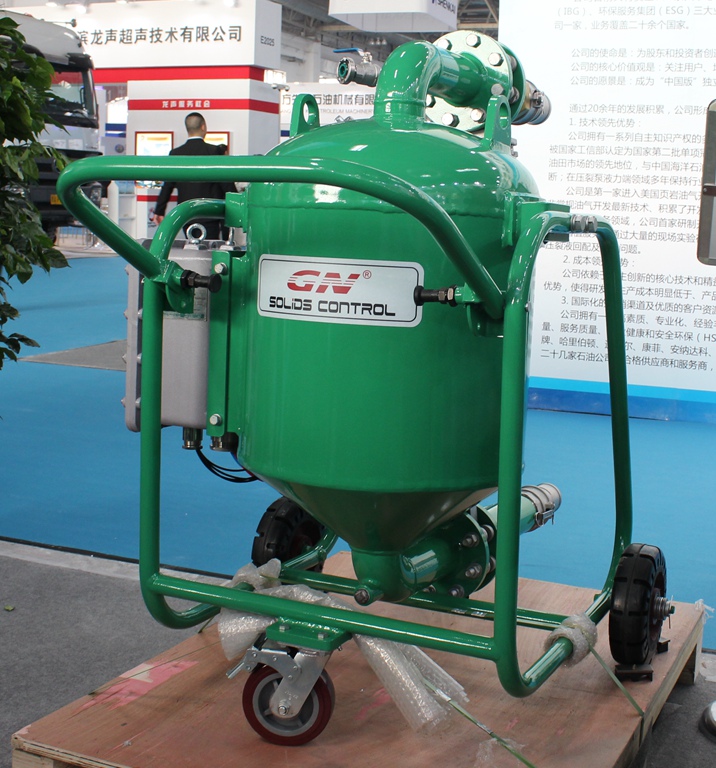 GN Solids Control makes the mobile type vacuum slurry pumps fitted with bigger wheels for easier maneuvering and ground clearance when moving around locations. On uneven surfaces and soft or sticky ground etc the little wheels would be a real hindrance. And it is good that GN Solids Control stayed away from Pneumatic Tires, and go with solid rubber as the air filled versions tend to make the Unit move around too much when it's operating. 
GN Solids Control will also show its different models of vacuum slurry pump units on OTC oil show in Houston in April 29 ~ 3 May, 2018. GN Solids Control has a company and a warehouse in Houston. And they will have 2 booths on the Houston oil show. Below is the information can help you find GN Solids Control on the OTC oil show in Houston:
Show Time & Location: 30 April - 3 May, 2018. NRG Park, Houston, Texas, USA
Booth No. 1: NRG Center 1369-1 (GN China)
Booth No. 2: NRG Arena 8000 (GN America)
For clients who are looking for some good pump for pumping out oil sludge from Oil tanks on ships, the vacuum slurry pump units must be a perfect choice. 
The vacuum slurry pump units can suck and discharge oil sludge or waste oil remains which are very viscous and have some loose particles. The max. suction depth of the vacuum slurry pump units is up to 50m. So even the depth of tank is around 30m or 35m, it is no problem. And the max. transfer distance of the vacuum slurry pump units can reach up to 1000m. But the the different discharging head and the material situation, the exact transfer length should vary.
Besides vacuum slurry pump units, GN Solids Control also have other type of transfer pump, like screw pump, centrifugal pump, shearing pump, etc… For clients who are looking for pumps to pump the viscous oil sludge, they can contact GN sales team for help.