GN Solids Control makes different sizes of centrifugal pump to suits to different applications, like for mud mixing by working together with mixing hopper, to feeding for desander and desilter mud cleaner, to feed for decanter centrifuge, to be used as trip pump, charging pump, to work as transfer pump to here to there, and work as suction tank to suck drilling fluids from mud system and feed for mud pump for drilling activities.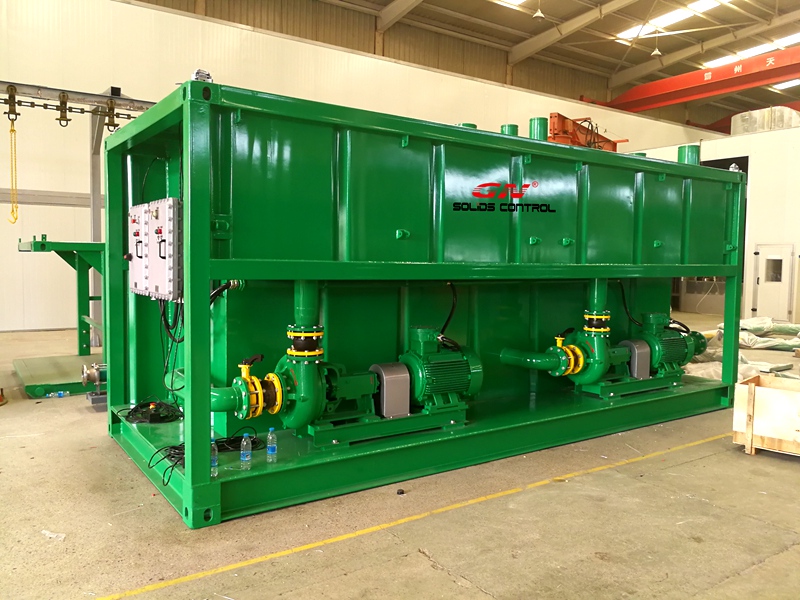 Here are major centrifugal pump sizes made and sold by GN Solids Control: GNSB4×3, GNSB5×4, GNSB6×5, GNSB8×6. The 2 numbers here indicate the pump inlet and outlet sizes in inch, the bigger number standards for the suction pipe size, while the smaller number indicates the outlet pipe size. For centrifugal pump, the inlet size must be bigger than outlet pipe. Another important design to determine the pump performance is the diameter of the pump impellers. For the same pump size, the bigger size the pump impeller, the bigger flow it can handle. And the motor power must be accordance with the pump size (inlet size, output size and the impeller size). 
GN Solids Control pump design and all its spare parts are fully interchangeable with a traditional famous pump model: Mission Magnum. In this case, clients can easy source spare parts and replace GN pumps in their existing systems.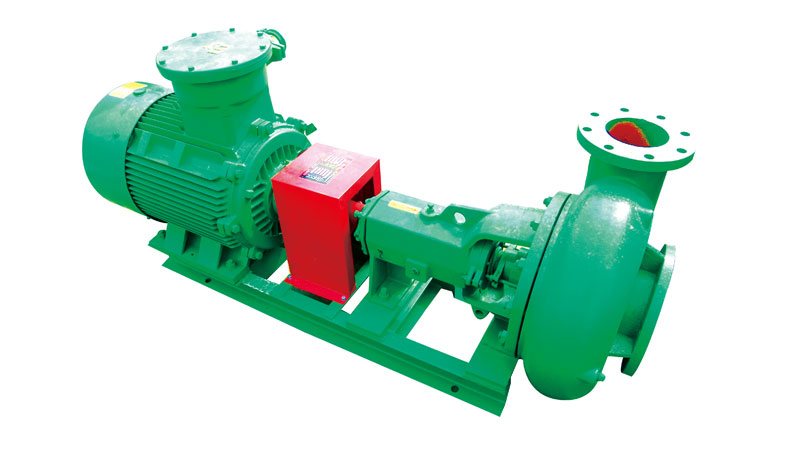 There are so many pump manufacturer, while GN Solids Pump performance better than others'? Below are some advantages of GN Solids Control centrifugal pump:
1) Thick, Strong Concentric casing provides extended life over conventional volute designs. The Concentric design minimizes turbulence and abrasive wear.
2) GN Solids Control pump casings are all made from hard ductile iron alloy, increased abrasion resistant capability compared to competitors' pumps.
3) Wide open-vane impeller creates lower axial thrust for improved bearing life.
4) Anti-loosening impeller lock bolt to eliminate pump damage in case of improper motor hook-up.
5) The skid for supporting pump and motor is made from casting instead of welding to provide reliable operation and less vibration in a result to extend the pump and motor life.
GN Solids Control owns the full production line for big sizes decanter centrifuge manufacturing. GN Solids Control utilize the same production line as centrifuge to make centrifugal pump, which ensure a reliable and excellent performance. 
As one of the major liquid and solids separation centrifuge manufacturer, GN Solids Control exported many dewatering centrifuge systems to worldwide market, like Canada, British, Singapore, UAE… GN dewatering centrifuge system can be used in oil field and non-oil field. 
GN Solids Control exported many big bowl dewatering centrifuge systems to Singapore for construction field waste water treatment. It can be used to treat and recycle waste water from horizontal directional drilling, from piling project, from micro tunneling projects, from dredge slurry separation projects, or from other pipeline and underground activities.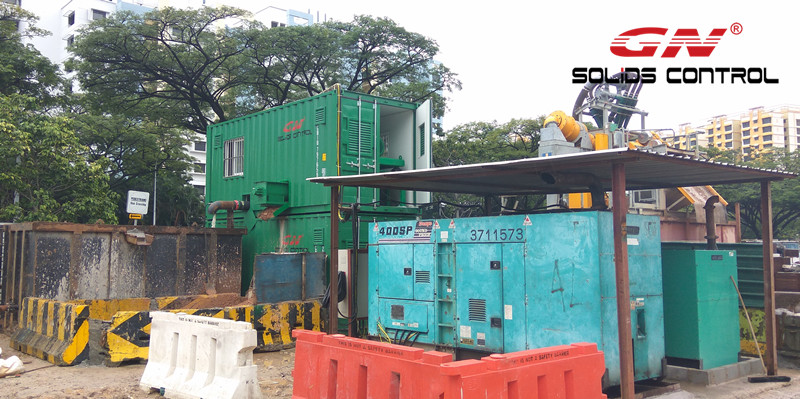 Recently, GN engineer come back from Singapore and finished the commissioning and training works of a new dewatering centrifuge system there. Now the waste water treatment system is running well, clients are happy with it.
The water centrifuge for Singapore client is very similar to other dewatering centrifuges sold there before. It includes below processing equipment:
1) Big bowl decanter centrifuge GNLW553C-VFD. It is a 22inch big bowl decanter centrifuges widely used for fine solids separation, for drilling mud separation and waste water treatment.
2) An automatically power chemical mixing and dosing system. The chemical dosing system will be used before the waste water feeds to the centrifuge bowl for flocculation.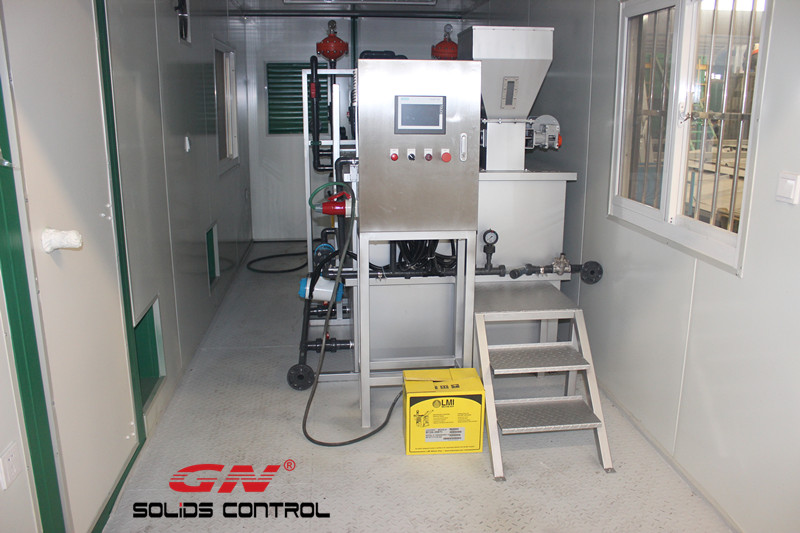 3) As the construction waste water treatment is mostly took at near the city or in the city. There I a strict limitation on space. GN Solids Control fixed Both the automatically power chemical mixing and dosing system and the 22 inch big bowl centrifuge into containers respectively. And the 2 containers can be laid at 2 layers. The big bowl decanter centrifuge container will be put on top of the chemical dosing system container. It is easy for movement and can saves space.  
The centrifuge dewatering system is used after the slurry separation system. The slurry separation system will remove most of the big size solids in liquid, to reduce the mud weight and the solids contents, and to make the waste water qualified for centrifuge separation. GN Solids Control can also offer the slurry separation system (C/W with shale shaker, hydro cyclone separator, feeding pumps, mud tank system, lighting system, electrical control system).
This week, a full set of containerized drilling waste cuttings treatment system and some mud treatment shale shakers are ready for shipment to a Russia customer. Every year, GN Solids Control exported many complete sets containerized cuttings drying systems to worldwide market, especially for Russia. As Russia market is very cold. More of half time of a year is frozen weather. It request all equipment and system for Russia market should be good at keeping warming at frozen weather, many time, it may under 50 C degree.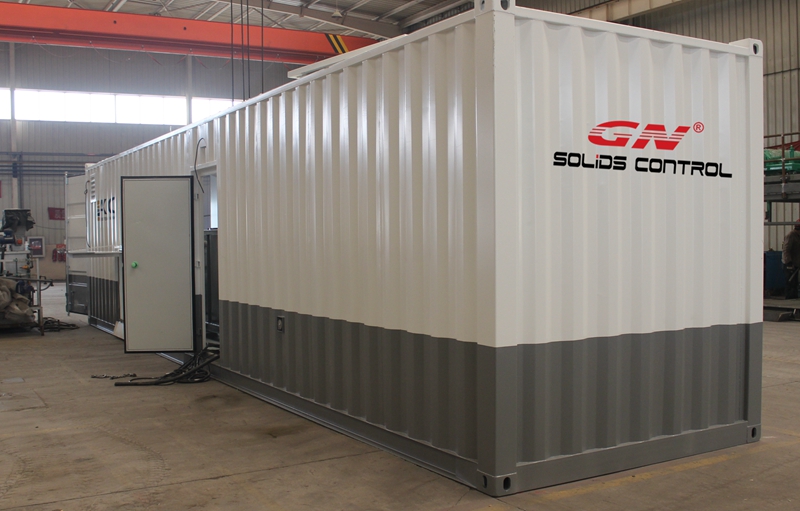 In order to keep warm and protect the equipment well, GN Solids Control put the drill cutting treatment equipment into the container, and there will be warming system all around the container.
The containerized cuttings drying system including a set of vertical cuttings dryer, a set of decanter centrifuge. A transfer tank with transfer pump is located between the vertical cuttings dryer and the decanter centrifuges. 
As clients said, there are many vertical cuttings dryer brand in the market, GN Solids Control is the best. GN Solids Control makes the best vertical cuttings dryer among all dryers brand they used. And they will only buy drilling waste management equipment from GN Solids Control.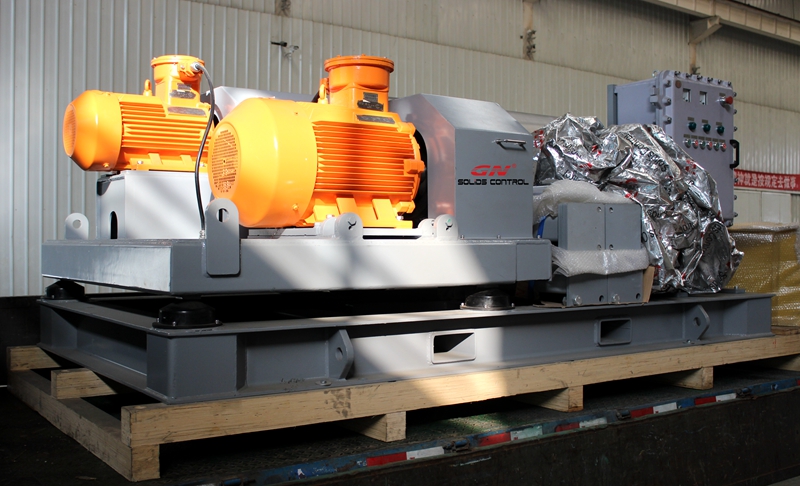 Russia is an important market for GN Solids Control, especially in the recent year. GN Solids Control develops well and fast in Russia market. As GN main products are drilling waste management treatment equipment, like Vertical cuttings dryer, high G dryer, high speed decanter centrifuge, screw conveyors, dewater unit, etc…
Middle east and Africa is another important market of GN Solids Control. Unlike Russia market, Middle east and Africa are most very hot reason, may time, it will up to + 55 C degrees.  The equipment, especially the VFD centrifuge must be equipped with excellent cooling system to ensure a stable performance. GN Solids Control did it well. All job site cases proved that, GN Solids Control equipment can suit for -50 C degree to + 55C degree to cover the big temperature range.